What is a Backlink and How Do You Get More?
Last updated on September 7, 2023
/
Backlinks are an important part of search engine optimization (SEO) because they help search engines understand the relationship between different websites and the content they contain.
When a website includes a backlink to your site, it is essentially vouching for your site and the content it contains. This can have a significant impact on your search engine rankings.
Related >> 3 steps to analyzing your competitor's backlinks
There are three main reasons why backlinks are important
First, search engines (Google) see backlinks as votes of confidence. The more backlinks your web pages have, the more likely they are to rank for relevant search queries. The bigger the website, the powerful that vote of confidence is and helps you rank better.
Second, search engines find new content by revisiting pages they already know about to check for new links. If you get backlinks from popular pages, your content may be discovered faster by search engines. This is why you want to get links from websites that have high DR (Domain Rating) because it will give you more "link juice".
Third, backlinks exist to point people to useful resources, and when someone clicks on a link to your website, you get referral traffic. This is kind of stating the obvious, but a backlink is ultimately something to help the reader and not just an SEO tactic. Keep that in mind if you are writing content for a guest post with the goal of getting a link.
Related > > 8 Tips for Creating SEO Content
See this graph here from ahrefs.com: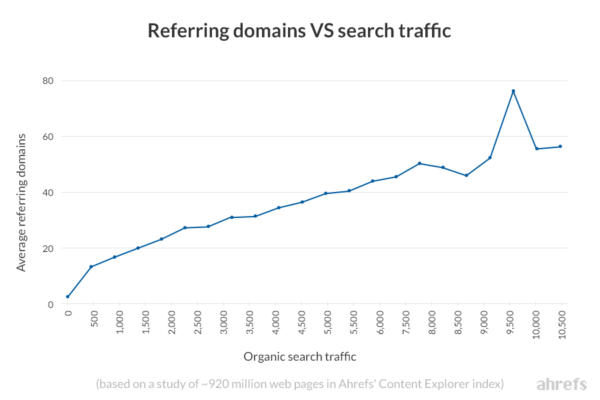 The correlation between backlinks and search traffic is undisputable.
Not all backlinks are created equal
The quality of a backlink depends on a number of different attributes:
Relevance is important because Google places more value on relevant backlinks.
Authority is also important, as backlinks from strong web pages tend to transfer more authority than those from weak pages.
Traffic is another factor to consider, as backlinks from high-traffic pages will usually send you more referral traffic than those from low-traffic pages.
Placement is also important, as people are more likely to click on prominently-placed links. It's also useful to prioritize getting followed links over nofollowed links, as nofollowed links don't usually influence the linked page's rankings.
Anchor text, or the clickable words that form a backlink, is another factor to consider, although its importance has been disputed.
Here is another great graph from ahrefs that helps visualize the value of backlink building: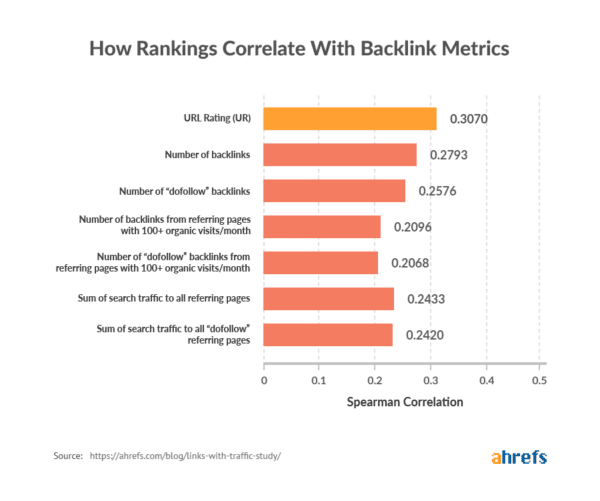 Related > > 10 Benefits of Using GA4
How to get more backlinks
Backlink building is the process of reaching out to other website owners, editors, or webmasters and asking them to link to your page. This can be an effective way to improve your search engine rankings and drive referral traffic to your website, but it's important to have a clear value proposition and use effective tactics in order to be successful.
Note: See here how one of our client's SEO link building campaign tripled their traffic over a year.

Guest blogging
This involves offering to write a one-off post for another website in exchange for a backlink. This can be a good way to get your content in front of a new audience and build relationships with other website owners.
[TIP] You can use an AI content program to help you write outreach emails at scale, such as ChatGPT.
Broken link building
Broken backlink building is a way to boost a website's search engine ranking by finding and fixing broken links to the target website on other websites. The process involves finding sites that used to link to the target site but no longer do so, and then contacting the webmasters of those sites to ask them to change the link so that it points to a working page on the target site.
This can help the target website's search engine ranking, since search engines use links to figure out how important and relevant a website is.
When many high-quality links point to a website, search engines see it as a more reliable and relevant source of information and rank it higher in search results. Also, fixing broken links can make it easier for users to find the information they are looking for, which can improve the user experience.
The Skyscraper Technique
This is another popular backlink building tactic. It involves finding relevant content with a lot of links, creating something even better, and then asking the websites that linked to the original content to link to your improved version instead. This can be an effective way to get backlinks from influential websites and improve your search engine rankings.
Related > > 8 Tips for Creating SEO Content
Unlinked mentions
Here is another tactic that can be effective for building backlinks. This involves finding instances where your brand is mentioned on other websites but not linked to your site, and then asking the authors to make the mention clickable. This can be a simple way to get backlinks from high-quality websites and improve your search engine visibility.
In summary, backlinks are an important part of SEO because they help Google understand the relationships between different websites and the content they contain. By earning high-quality backlinks, you can improve your search engine rankings and boost your website's over all SEO scores and Domain Rating. That will bring you a never ending stream of traffic that you can use to get more leads and customers. If you want help with your SEO contact me here at Deviate Agency.
How Backlinks Help Local SEO
In the vast landscape of SEO, backlinks have long been heralded as powerful drivers of website authority and search rankings. For local businesses, backlinks take on a unique significance, acting as digital endorsements that amplify local online visibility. Backlinks are a key part of local SEO strategy.
1. Establishing Authority and Trust: At its core, a backlink is a vote of confidence from one website to another. When reputable local websites link to your business, it signals to search engines that your content is valuable and trustworthy. This perceived authority can significantly boost your standing in local search results.
2. Local Relevance: While any high-quality backlink can benefit your SEO, links from local sources—like community newspapers, local bloggers, or regional directories—carry added weight. They emphasize your connection and relevance to the local community, making you more likely to appear for localized search queries.
3. Referral Traffic: Beyond the SEO benefits, backlinks from local sources can drive direct traffic to your website. A feature in a local online magazine or a mention in a community blog can introduce your business to a broader local audience, increasing the chances of in-person visits.
4. Competitive Edge: In competitive local markets, businesses often vie for the top spots in search results. A robust backlink profile can be the differentiator, setting you apart from competitors and ensuring that potential customers find you first.
5. Enhanced Local Citations: Citations, or mentions of your business name, address, and phone number, play a crucial role in local SEO. When these citations are accompanied by backlinks, their impact is magnified, providing a dual benefit of increased authority and visibility.