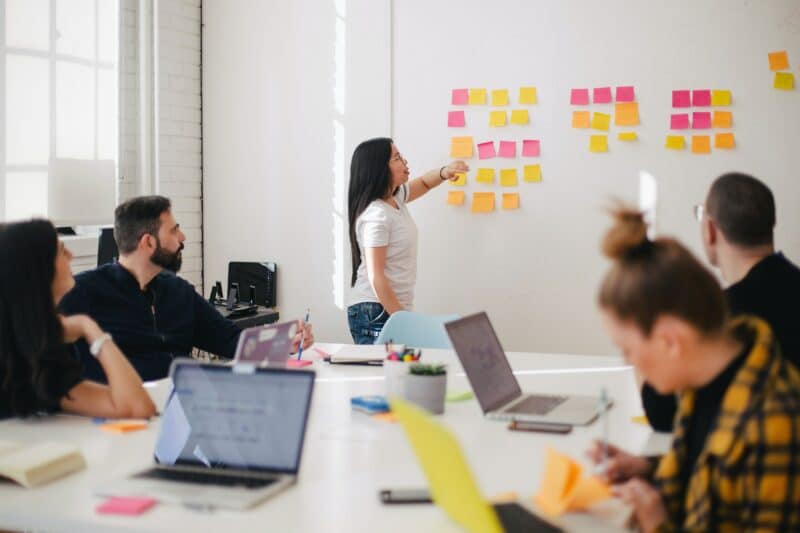 3 Steps to Analyzing Your Competitors' Links for Better SEO
Last updated on December 31, 2022
/
Any effective SEO strategy must include competitor link analysis since it gives you insight into how your rivals are establishing their online presence and helps you spot areas where your own link-building efforts can be strengthened.
In this article, I will show you how to conduct a competitor link analysis in just three easy steps.
Step 1: Determine who your competitors are
You must first determine who your rivals are in order to examine their links efficiently. This can be accomplished using a variety of techniques, such as investigating your sector, looking at your website analytics, and thinking about which businesses or websites rank highly for keywords related to your industry.
To begin with, you can look for terms associated with your company in search engines like Google and check which websites score highly. To obtain a feel of which websites in your industry receive the most traffic and engagement, you may also use tools like Ahrefs or SEMrush. As these websites may also be competitors, you can also check your own website analytics to discover which ones are sending visitors to your own website.
For example, you can use the Organic Competitors tab in ahrefs top find data like this: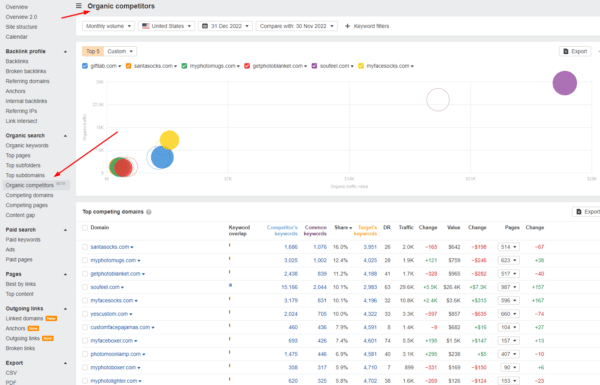 It's crucial to focus only on the main competitors from your list of potential rivals after you've identified them. These ought to be the websites that directly compete with your own company and are most likely to have an effect on your SEO strategies.
In order to make sure that you are consistently studying the relevant websites, it's crucial to bear in mind that your competitors may change over time. As a result, it is sense to frequently evaluate and update your list of competitors.
In conclusion, identifying your rivals is a crucial initial step in doing a competitor link analysis since it enables you to concentrate your efforts on the websites that are most pertinent to your business and gain a better understanding of the competitive environment there.
Related >> The Benefits of Content Marketing
Step 2: Collect competitor link data
The next stage is to gather information about your main competitors' links once you have determined who they are.
For this, a number of tools are accessible, including Ahrefs, SEMrush, and Majestic. These tools can offer useful details on the quantity and quality of connections from rival websites, including the anchor text used, the referring domains, and the linked pages' page authority.
It's crucial to collect as much information as you can to acquire a thorough picture of the link profiles of your rivals.
This will make it possible for you to fairly compare and evaluate the links and find any prospects for future link-building.
You only need to enter the URLs of your competitors' websites into the tool of choice to gather this information.
It's a good idea to conduct some research and pick the tool that best suits your demands and budget because some programs may require a subscription or payment in order to access all of the accessible data.
Overall, gathering competitor link data is a crucial stage in carrying out a rival link analysis because it gives the details required for comprehensive analysis and comparison.
For example, you can check your competitor's most linked content using the Best by Links report in ahrefs: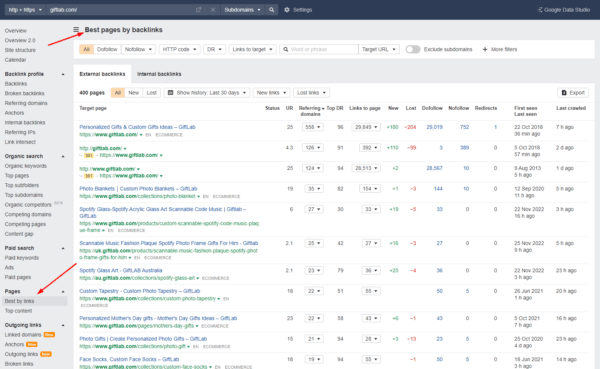 Step 3: Analyze and compare competitor links
Compare them to see if there are any areas where your own link-building efforts could be improved.
To start, evaluate the number and caliber of the links that your rivals are offering.
Here is how you can do that in ahrefs.  Note that you can quickly see the Domain Rating (DR) of each backlink they have: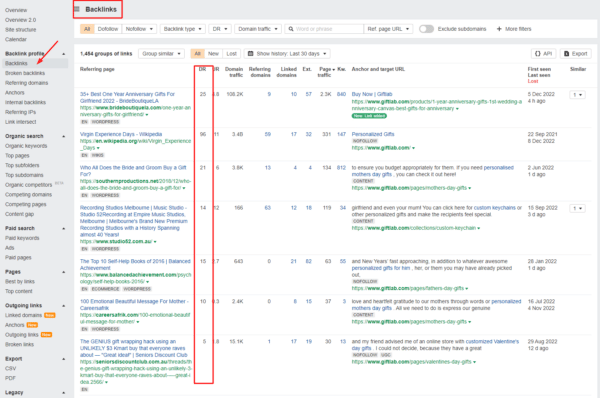 The overall number of links each rival has, as well as the page authority and domain authority of the linked pages, are taken into consideration.
Along with the referring domains, you should take into account the anchor text that is utilized in the links. You may determine which of your competitors has the strongest link profiles by analyzing these variables, and you can also determine where you might need to concentrate your own link-building efforts.
The next step is to research possible link-building opportunities by studying the link sources and tactics of your rivals.
This entails finding the websites that link to your rivals and deciding if they could serve as potential link sources for your own company.
Additionally, you should keep an eye out for the kinds of content your rivals are producing in order to gain links, as well as any link-building strategies they may be employing, like guest posting or broken link building.
Overall, conducting a competitor link analysis requires performing an examination and comparison of rival links. You can find ways to enhance your own link-building efforts and get a competitive edge in the search results by carefully reviewing the link profiles of your rivals.
Related >> 5 Steps to Optimize On-Site SEO
Conclusion
Competitor link research is an essential component of any SEO plan.
It enables you to better understand how your rivals are establishing their online presence and spot areas where your own link-building efforts can be strengthened.
You can get important insights into the competitive environment of your industry and advance your link-building efforts by following the three phases indicated in this article: identifying your competitors, gathering competitor link data, and analyzing and comparing competitor links.
Related >> 7  Ways you can build great backlinks