What Are The Top 10 Benefits Of SEO?
Last updated on June 22, 2023
/
Search engine optimization, or SEO, is the process of improving the ranking of a website on search engines like Google.
There are numerous benefits to implementing an SEO ranking strategy for your business.
Some of the top benefits include:
increased visibility for your brand,
improved user experience,
and the ability to generate high-quality leads.
1. 24/7 Promotion with SEO
SEO offers 24/7 business promotion, which is one of its main advantages. Your website will rank well in search engine results pages and get organic traffic even after business hours if you have a solid SEO strategy in place. This increases the likelihood that a consumer will make a purchase or complete another conversion because they may find your company at any time of day.
In the current digital world, having a strong online presence is essential, and SEO makes sure that clients can find your company effortlessly. You may draw targeted visitors to your site and establish yourself as a reliable and authoritative source in your business by optimizing it for relevant keywords and offering useful content.
Strong SEO tactics can help you keep and engage existing consumers in addition to bringing in new ones. You can keep visitors to your website coming back and engaged with your company by regularly offering new and pertinent material.
Related reading >> SEO Techniques to Avoid 
2. Higher Click-Through Rate with SEO than PPC:
Another advantage of SEO is that, in comparison to pay-per-click (PPC) advertising, it frequently results in a higher click-through rate… and will be your lowest cost per acquisition (CPA) marketing channel.
In comparison to paid adverts, studies have shown that organic search results have a greater click-through rate. Users may have a tendency to place more trust in organic search results because they are unaffected by advertising expenses. Users may also be more inclined to click on an organic result if it is highly relevant to their search query because it is likely to have the data they need.
PPC advertising can be a useful tool for increasing website visitors, but the costs can up quickly. In comparison, SEO can boost your site's ROI by bringing in more relevant visitors for less money.
3. Improved User Experience with SEO:
SEO can increase the overall user experience on your website in addition to bringing traffic and leads to it.
With good SEO, consumers can locate the information they need fast and simply by optimizing for relevant keywords and offering worthwhile content. This could result in a better user experience on your website, which could assist boost conversion rates and entice visitors to visit it again in the future.
Enhancing user experience can also help your website rank higher in search results. The user experience of a website is taken into account by Google's algorithms when evaluating its rating.
By by giving users a good experience, you can raise your site's ranking and draw in more qualified traffic.
4. Quality Lead Generation through SEO:
Any digital marketing strategy must include a search engine optimization (SEO) component to raise brand visibility.
Potential customers are more inclined to trust and select a brand that is at the top of the search results when they conduct an online search for goods or services.
On-page SEO optimization is vital.
Make sure your website is responsive and loads quickly. Also focus on off-page optimization, such as constructing high-quality backlinks from other reliable websites. Both necessary for effective SEO. 
A solid SEO plan can help your website get more visitors. Getting more visitors to your website will establish a consistent flow of leads into your sales funnel. 
Make sure you have setup ways to capture an email such as:
Use forms.
Pop-ups that offer something in exchange for an email
A newsletter sign-up
Use a chatbot to engage with visitors
Setup an exit pop-up to encourage them to join a newsletter or email list before they leave.
5. Increased Brand Visibility through SEO
Every digital marketing strategy should include a search engine optimization (SEO) component to increase brand visibility.
Your website will be more visible to potential customers as a result of improved SEO rankings. You can bring in a larger audience and establish your brand as an expert.

In the above screenshot, you can see how one brand received 3,200,000 impressions over the last ~90 days alone… look at that brand visibility! 
Related Reading >> 10 Benefits of Using GA4
6. Comprehensive Marketing Strategy with SEO
For your company to be successful, search engine optimization (SEO) must be a part of your overall marketing plan.
Online and offline components should both be included in a holistic marketing strategy, and SEO should play a significant role in your online marketing initiatives.
Use SEO and great content to position your brand as a leader in the field.
A thorough marketing plan should incorporate SEO as well as other strategies like social media marketing, email marketing, and content marketing. You may successfully reach and interact with your target audience, increase sales, and generate money by utilizing a range of marketing channels and strategies.
The key is that SEO is synergistic with other marketing channels. Most notably, SEO and paid advertising have big synergistic benefits.
Related Reading >> SEO Strategy for Shopify
Did you know AI content is taking the internet by storm these days?
Artificial intelligence (AI) can make content that makes sense and keeps readers interested… quickly and at a very low cost.
AI can make content that looks and sounds like it was written by a person because it can recognize patterns and write in a style and tone similar to that of a human writer.
This ability could change the way content is made in many fields, including journalism, marketing, and advertising. 
7. Enhanced Brand Credibility and Trust through SEO
SEO can help to increase the trustworthiness and credibility of your brand.
Potential clients are more inclined to trust and select a brand that is at the top of the search results when they conduct an online search for goods or services.
You may position your brand as an authority figure in your sector by investing in SEO and raising your search engine rankings.
This shows potential clients that you are informed and reliable while also establishing your brand as an authority in your sector.
A solid SEO plan can help to raise brand awareness and generate traffic to your website in addition to improving search engine rankings.
The content you create for SEO (known as content marketing) is one of the most important ways for a business to build its credibility and authority. By making high-quality, useful, and relevant content, businesses can show that they are experts in their fields and give their target audience information that will help them. This shows that they care about giving their customers the best experience possible.
Content marketing for SEO can make it easier for potential customers to trust you.
Businesses can show that they care about their customers and aren't just out to make a sale by giving them useful and interesting content. This kind of interaction can help the business and its customers get along better, which can lead to more loyal customers and higher conversion rates.
8. Amplified PPC Success with the Help of SEO
Pay-per-click (PPC) advertising can be a useful tool for increasing website traffic, generating leads, and closing transactions.
However, integrating PPC with SEO can significantly increase the effectiveness of your PPC operations.
SEO helps amplify your PPC results because it fills the re-targeting buckets.
From the point of view of your PPC campaign, the SEO traffic gives you "free" website visitors to re-engage with ads.

You can also boost your search engine rankings and enhance the likelihood that more people will notice your website by optimizing it for pertinent keywords and phrases. This might support your PPC advertising and aid to increase organic traffic to your website.
The quality and relevancy of the content on your website can be raised through SEO, which can also help with search engine rankings. This can boost the conversion rate of your PPC ads. You can reach and interact with potential customers when they are looking for items or services similar to yours by investing in SEO.
Using SEO to boost the effectiveness of your PPC advertising will help you reach and engage potential customers more efficiently, which can increase sales and income. It is a practical technique to increase the return on many of your digital marketing campaigns.
9. SEO as a Major Source of Website Traffic
I've written about this many times in more detail, but here is a short summary:
By optimizing your website and online content for relevant keywords and phrases, you can improve your search engine rankings and increase the chances of your website being seen by a wider audience.
Example results from my SEO work: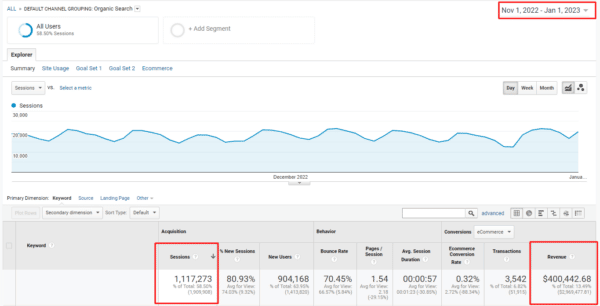 Effective SEO involves both off-page and  on-page optimization.
Such as ensuring that your website is mobile-friendly and loads quickly, and off-page optimization, such as building high-quality backlinks from other reputable websites.
It also involves regularly creating and sharing valuable, informative, and relevant content that addresses the needs and interests of your target audience.
Investing in SEO can help you to effectively reach and engage with potential customers at the moment they are searching for products or services like yours.
It is a cost-effective and long-term marketing solution that can drive traffic to your website, increase brand awareness, and ultimately drive sales and revenue.
Related Reading >> 3 Steps to Analyzing Your Competitor's Links
10. High Return on Investment for Conversions through SEO
When it comes to conversions, investing in search engine optimization (SEO) can give you a high return on your money.
By making sure that your website and online content are optimized for relevant keywords and phrases, you can improve your search engine rankings. This makes it more likely that more people will see your website. 
And, this can lead to more people visiting your website, more people knowing about your brand, and, in the end, more sales.
You get a high ROI because SEO passively brings traffic to your website – without having to pay for each click. As you build your SEO, it snowballs. And as it snowballs, it sends more and more potential customers to your website.
Over time this ends up being the best way to acquire customers at the lowest cause. But, you must have the patience required in order to give the SEO time to grow and snowball.
You can book a call with Matt Colletta here.